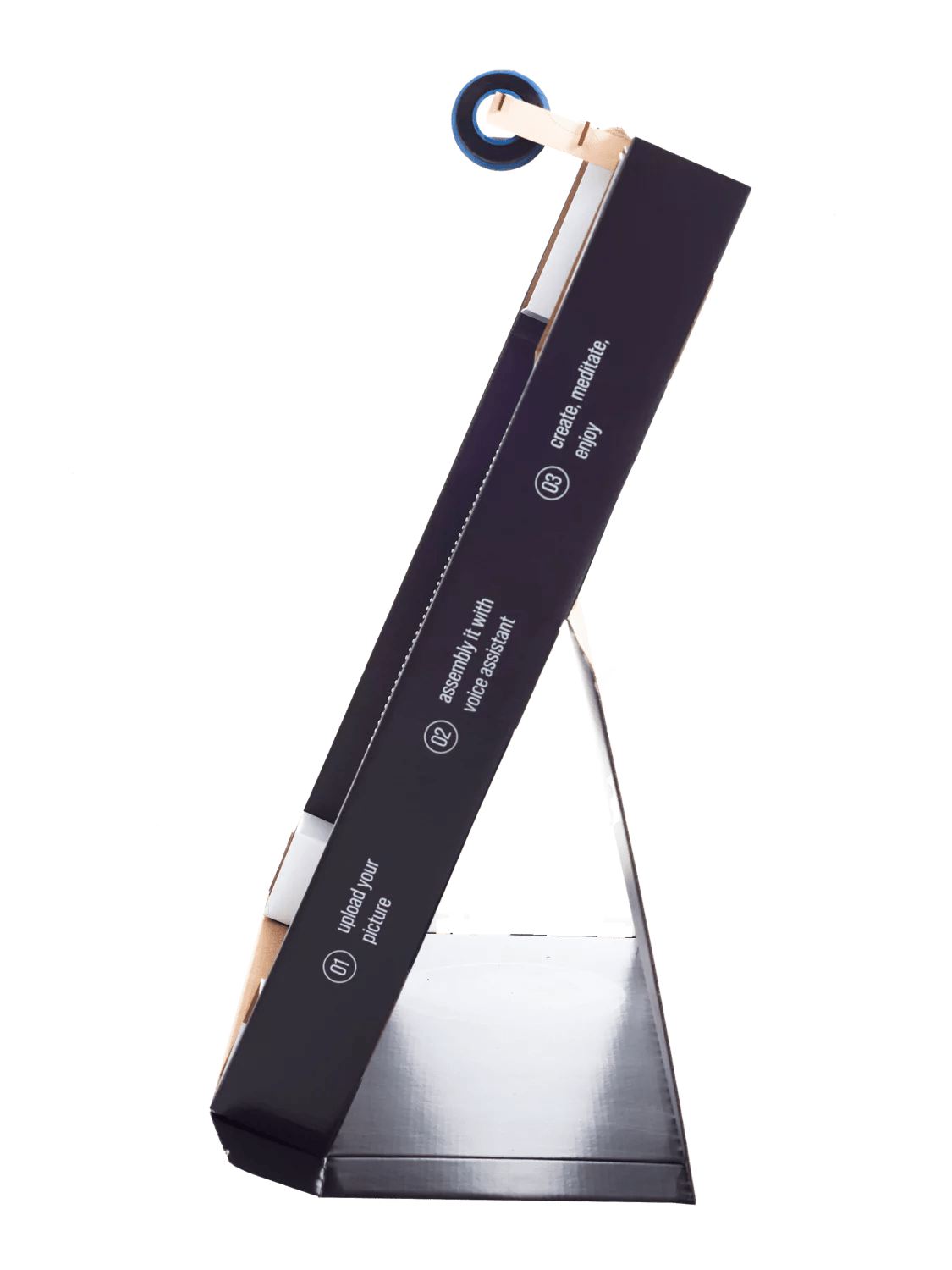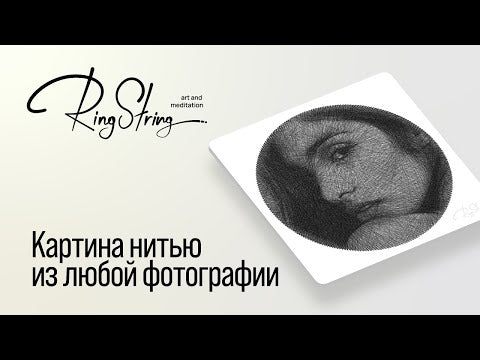 String art based on your photo
---
We try to ship orders the same day we receive them.
About
Then the RingString String Artwork is perfect for you!
Are you looking for an interesting hobby for yourself and your loved ones? Do you want to save valuable memories and share them? Looking for a unique gift idea that is sure to impress? Do you like original details in the interior that will delight you and your friends?
The uniqueness of our product is
In front of you is one of the brightest novelties: a universal set of strings that allows you to turn any photo into a stunningly beautiful picture.
that we do not make a product to
Through the online generator you can download PDF instructions as well as listen to online instructions with music for meditation with a pleasant voice narration (English, German, Russian, Spanish, Arabic, French, Italian, Romanian, Dutch, Polish)
order, you create your own picture!
We have combined a high quality product and a smart generator, but all this does not make sense without your imagination and individuality! Because only you can create a picture and make it unique, and we will be happy to help!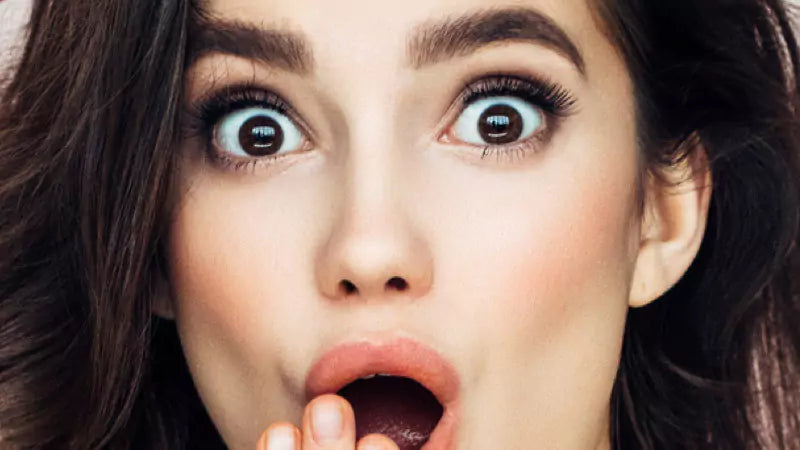 Before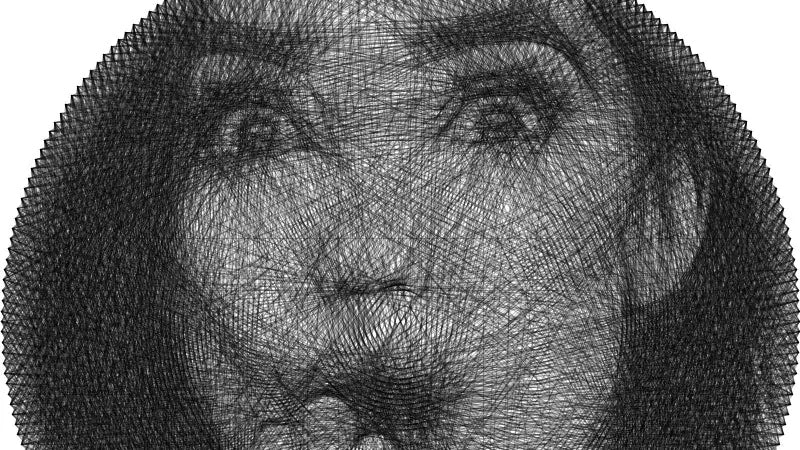 After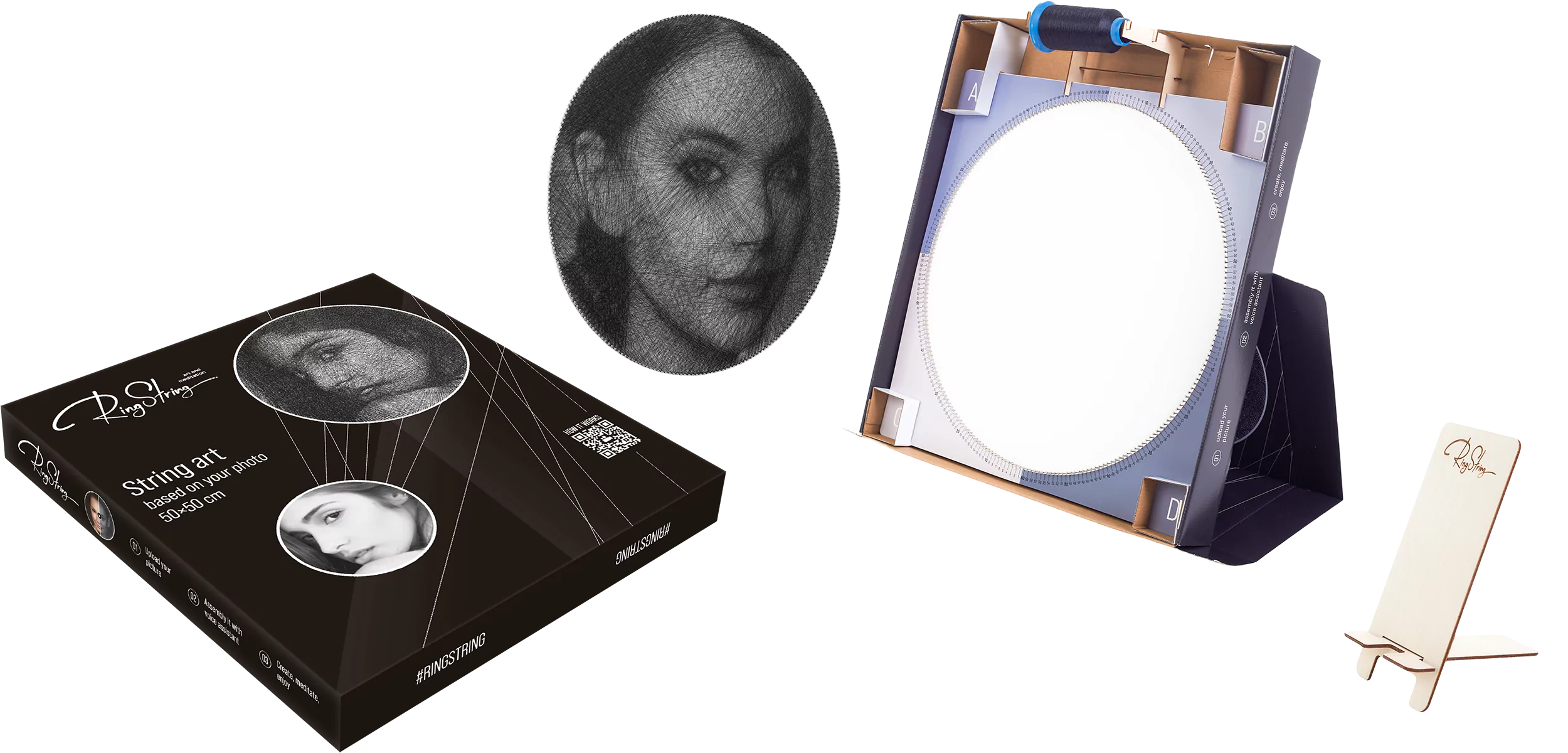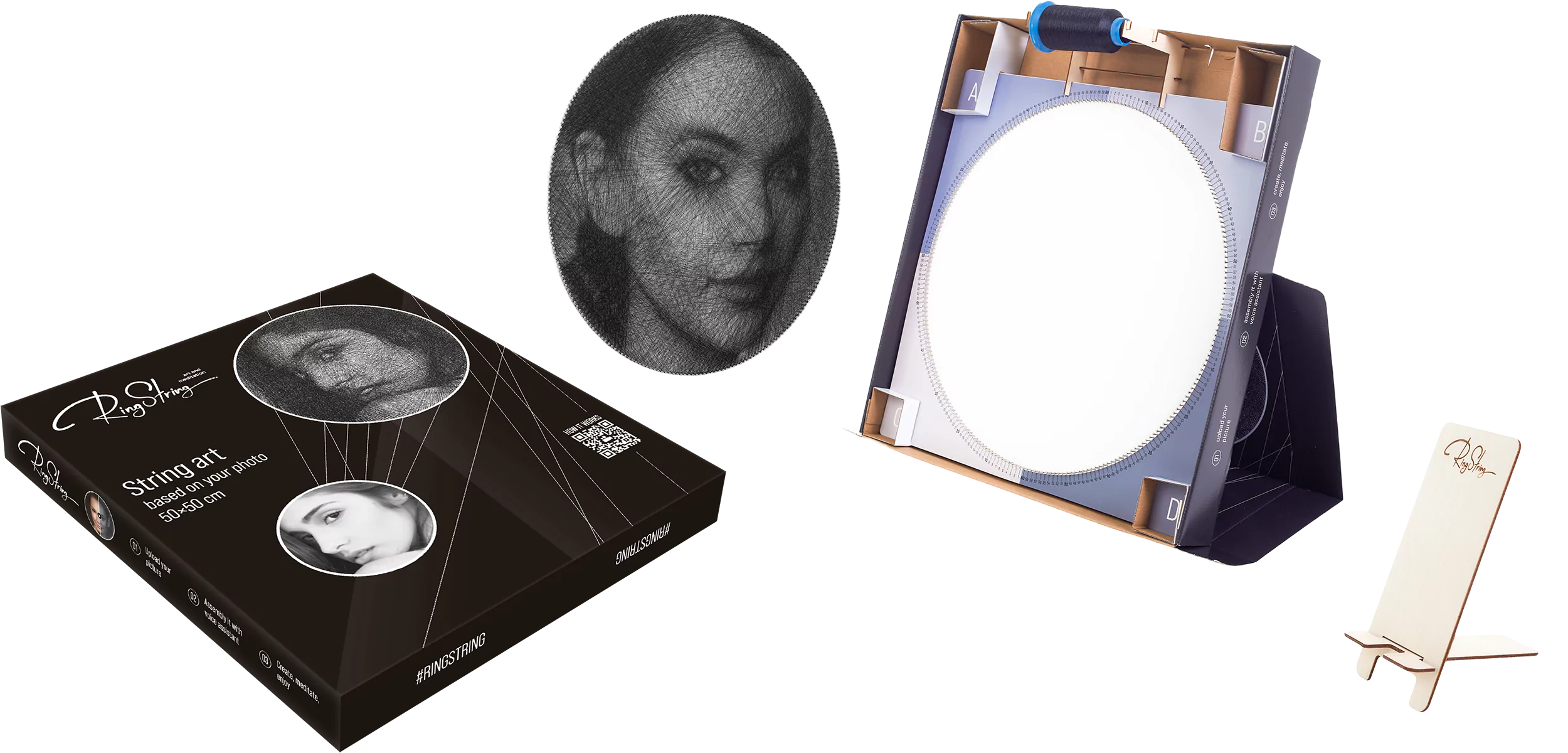 RingString box
A box that easily converts into an easel
Masterbox contains 1 RingString set
Masterbox size: 58.5×53×7.8 cm (23.03×20.8×3.07 in)
Masterbox weight: 3.5 kg
Nails
High quality wooden base with a 240 nails circle
Diameter of finished picture: 46 cm (18.1×18.1 in)
Phone holder
A handy wooden phone holder is included for easy adherence to the instructions.
Base size: 50×50 cm (19.6×19.6 in)
• Durable monofilament
• String fastening
• Sectors layout
• Detailed manual with a unique code
• Wall mount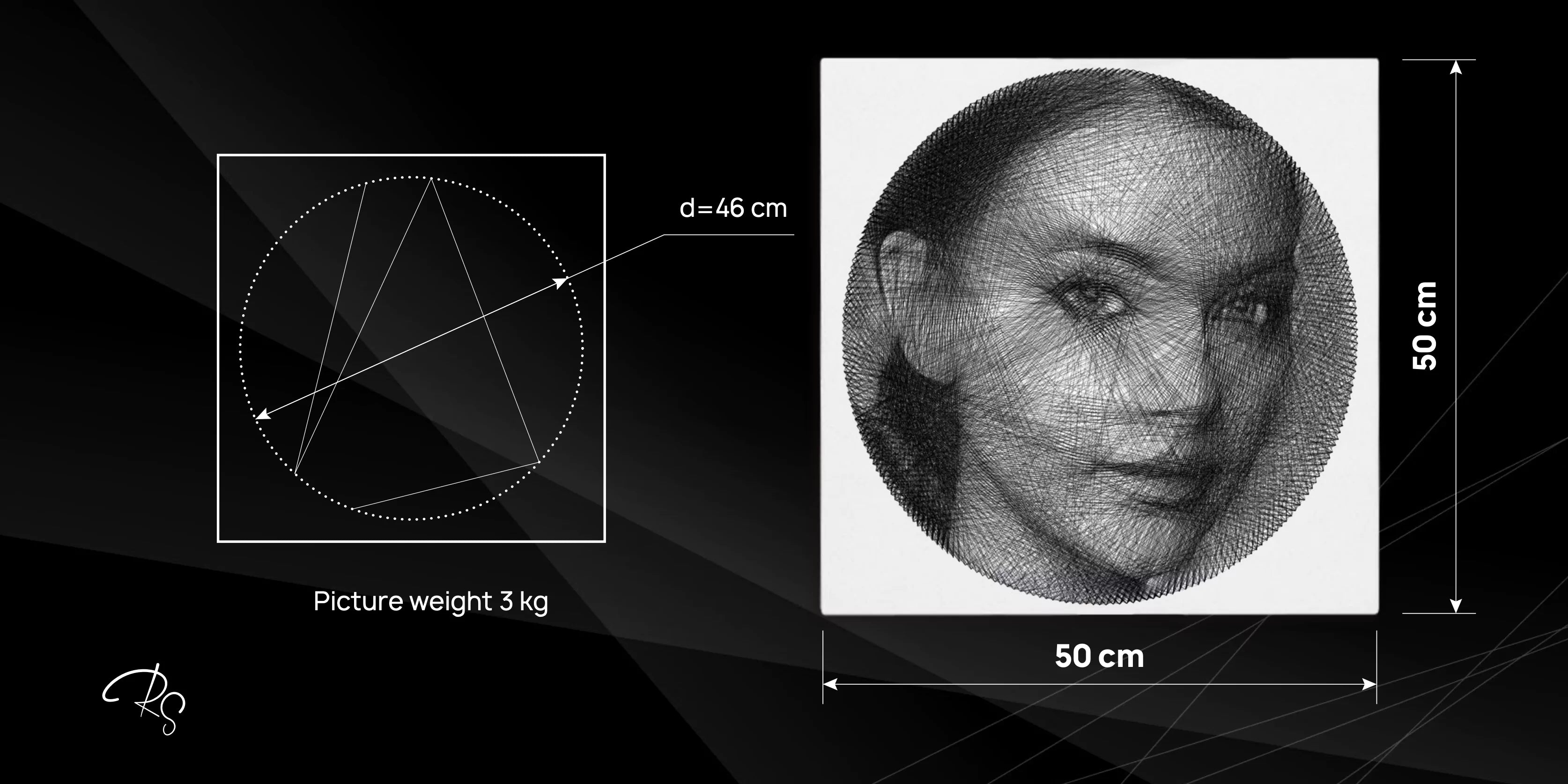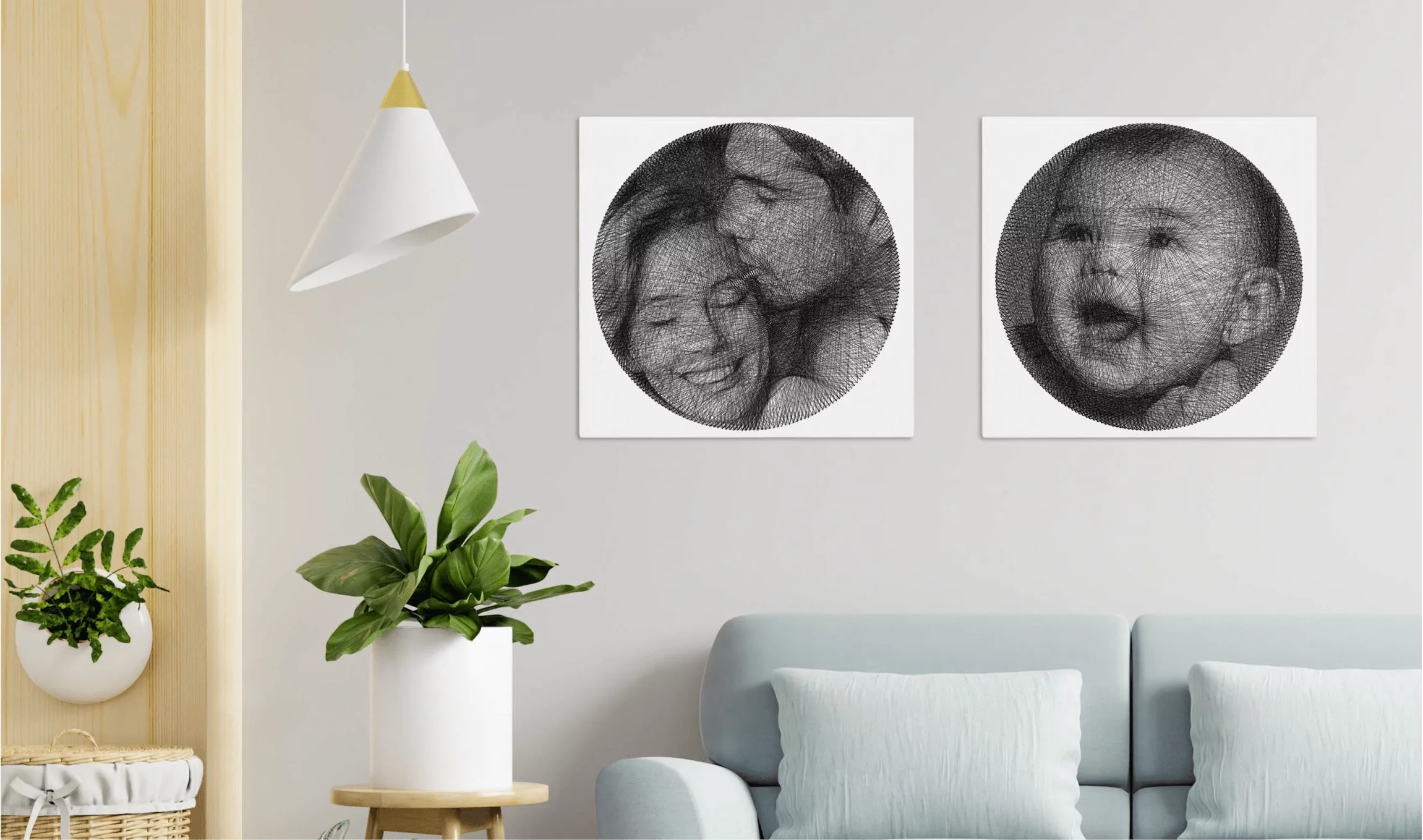 About RingString
Hello! We are the RingString team, presenting our creation - the world's first picture with threads, which you collect yourself from any photo. We created RingString because we want to give a sense of uniqueness and specialness to everything your hands touch. Enjoy the process, which is thought out with all love and attention to every detail. Feel like a creator and artist of a masterpiece, conveying your own individuality and vision.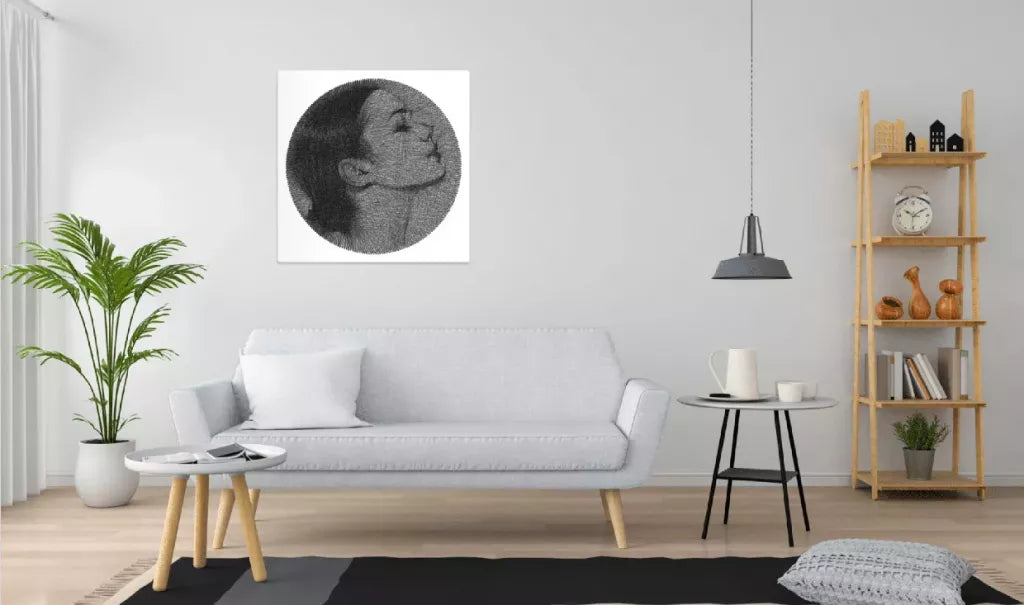 We used the highest quality materials and combined this with unique software, but only you can give individuality to the picture, only you create your RingString picture. The picture is created as a single continuous thread, drawing the outlines of your photo step by step, highlighting detail by detail.

In this product, we have taken care of all the important components, including the process of creating a picture. In interactive instructions, you will be accompanied by a voice assistant recorded by professional speakers. And to make the process meditative, relaxing music or sounds of nature will sound in the background, of your choice, the generator is completely adjusted to you!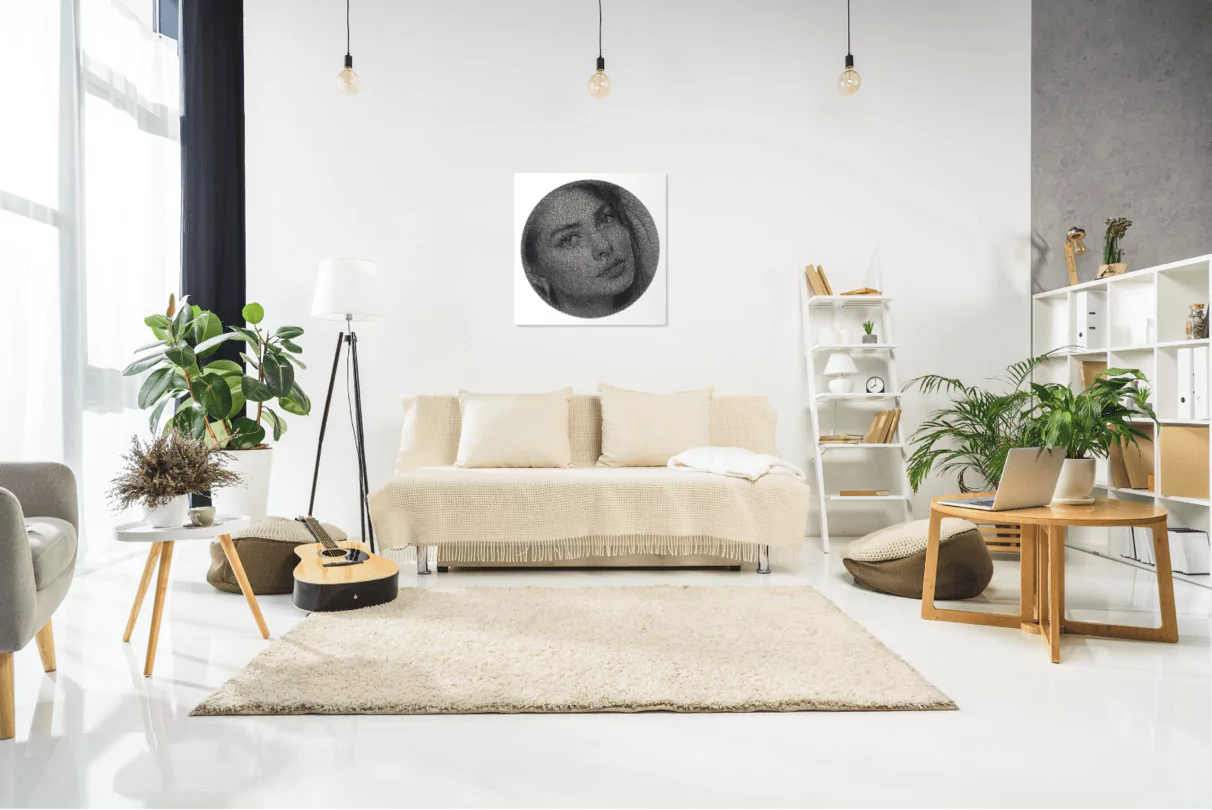 RingString is not only an exciting hobby, but also a wonderful gift that can surprise anyone, and the main thing in your future picture is its versatility! You can give both a packaged and assembled with all love portrait. If you do not know what to collect, we have prepared a gallery with photos for you to see it -click here.

The picture created by you will harmoniously fit into any interior and will look stylish due to the balance of black and white colors, and your own image will surprise and delight guests.

You can plunge into the process of creating a picture in the company of relatives and friends. And for children - this is not only an unforgettable leisure, but also the development of fine motor skills of hands and perseverance.

With love, the RingString team.
FAQ
We tried to answer most popular questions here. Click the question to see answer.
RingString is the world's first string art based on any of your photos, that you assemble yourself with an online voice instructor or with a printed PDF instruction. RingString isn't just an enticing hobby, but also is a great gift, that is sure to surprise anyone! The most important thing about our string art is its versatility! You can gift it either in a box, or as a portrait that you lovingly created yourself!

It takes only three simple steps:

Buy a RingString set;Upload your photo using the unique code from your paper manual;Put on our meditative background music and assemble your picture, guided by our voice assistant!

The finished picture will look stylish in any interior thanks to its balance of black and white colors. And the fact, that it is your own picture, will surely draw attention!

You can find the examples of finished pictures on our social media using the #ringstring hashtag.
Our generator can create an instruction based on any photo or picture of yours, but we recommend to create portraits, zooming in on facial features for better quality of the final picture.
What do I do after receiving the set?

Following the paper manual inside the package, enter your unique code on the ringstring.art website and upload your photo. Then, select the assembly variant you like and start creating your art!
How long does it take to finish the picture?

On average, it takes 6 hours to finish your picture.
To help you with this we have added the pin search function to our generator, so that you could find the pin you stopped at. It is located in the top left corner. Information on how to use it can be found in the paper manual.
We hope that it won't happen, because we tried really hard to make our instructions as thorough as possible. Still, if you have been moving your string in a wrong direction for last several steps, it isn't a problem – the finished picture won't look bad. Yet, to continue assembling correctly, enter the pin you stopped at in the search bar and the generator will return back to it. Otherwise, you can unweave the string a several steps back.
What if I won't be able to keep up with the assembly speed?

Our generator is made to suit you, and you are free to control the speed of assembly and voiceover in the generator, by either increasing and decreasing the speed.
Can the string break? What do I do in such case?

We order our strings from the largest supplier, who guarantees quality and durability, but we still recommend you not to pull the string too hard. If the string will break, you can tie two of its ends with a knot; it won't affect the look of the final picture.
Can the pins accidentally fall off? Are spare pins included in the kit?

It is impossible since the pins are inserted securely into the base. Thus, we do not include spare pins.
How do I put the picture on the wall? Are wall mounts included in the package?

On the back of the base there is a mounting, using which you can hang your picture on the wall.
What to do if I lack any components?

When assembling a packaging, we add few additional components just in case. Still, if your packaging lack anything, please send a letter to our email address - info@ringstring.art and we will send you anything you need.
Can a child assemble a picture?

Our recommended age is 14+, but we have created a very thorough instruction as well as an intuitive generator, so that under adult supervision children starting from 8 years old can assemble pictures as well.
Won't my photo be leaked on the internet?

Right after generating an instruction for assembly, files used for generation are deleted.
I didn't receive an email with instructions.

Please check your "Spam" folder and if you entered your email correctly. If you can't find your instructions still, write to our email: info@ringstring.art

Also, after entering you email in our generator website, you can start online assembly or download PDF instruction right away.
Can you send me a finished picture?

We see the main idea of our product in the assembly process of your particular photo, so we do not produce already made pictures.
What if I don't know that picture to assemble?
What if my question isn't in the FAQ?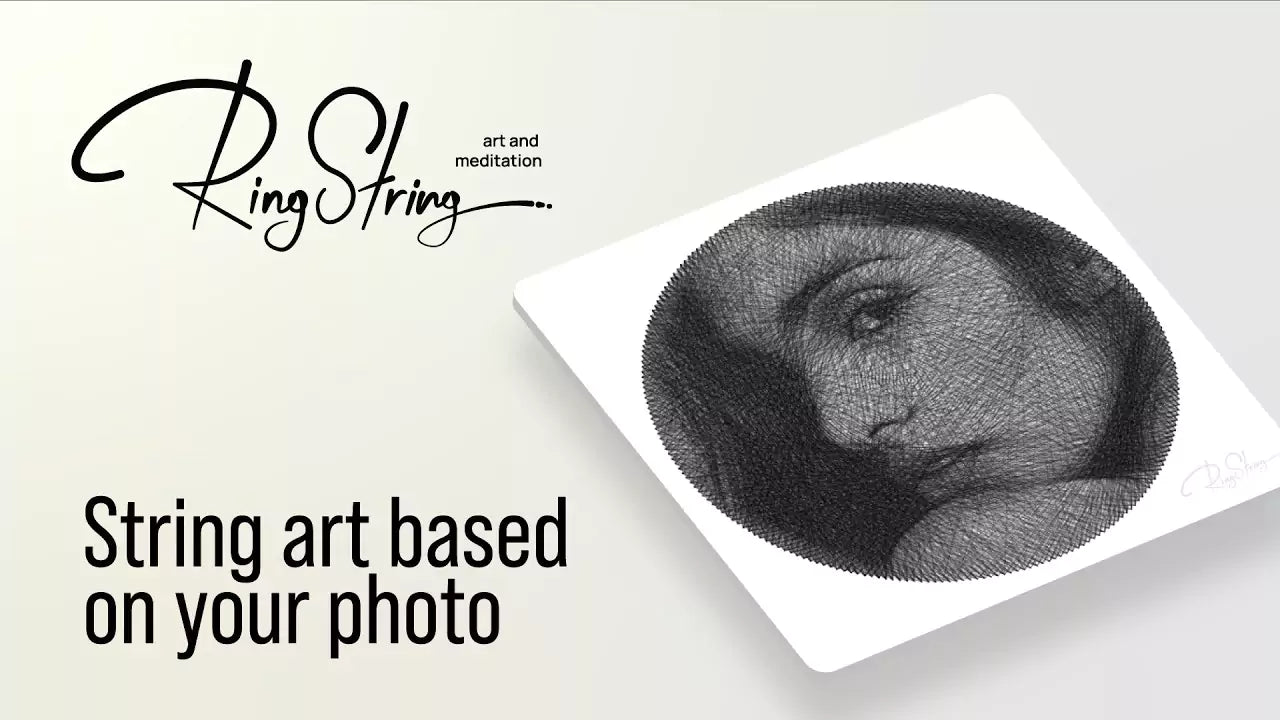 Customer Reviews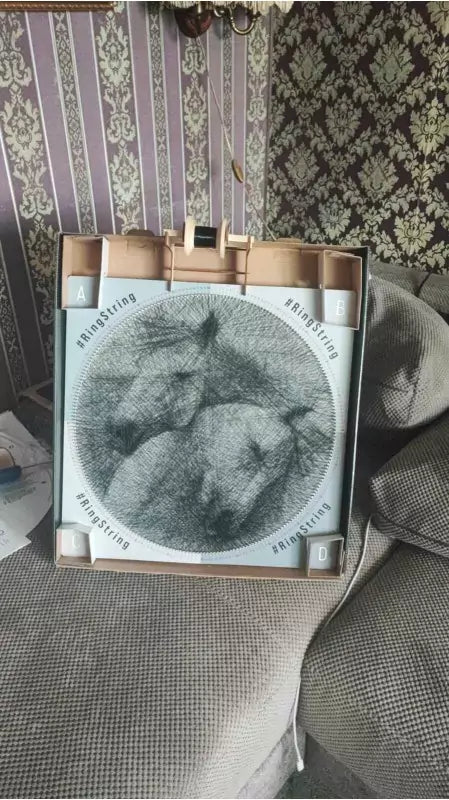 Amazing art! I was given a set six months ago, I couldn't get started, I thought it was very difficult! It turned out wow, how cool! Easy, comfortable, calming. It took me a long time to choose a photo; I didn't want a portrait. I chose a couple of horses. It turned out amazing!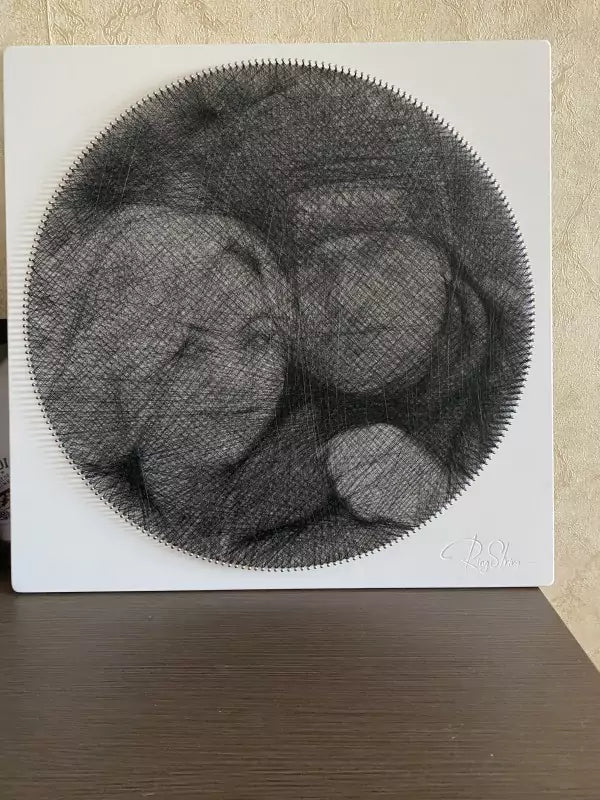 Gleznu uzdāvināja mans dēls. Man patīk viss, ko jūs varat darīt ar savām rokām. Un šeit, kad viss ir pārdomāts līdz mazākajai detaļai, tas ir divtik patīkami. Gleznu veidoju vakaros un brīvdienās svaigā gaisā uz balkona pie kafijas krūzes. Es apzināti izvēlējos ne ātro režīmu, lai izbaudītu procesu. Fonā skan relaksējoša mūzika. Sava veida meditācija. Katru dienu ģimene vēroja procesu no fotoreportāžas. Bija jautri lasīt diskusijas, jo ne visi zināja, kuru fotogrāfiju es izvēlējos. Daži redzēja bērnu savās rokās, citi redzēja kāda muguru. Un beigu beigās es tiku pie satriecošas gleznas, kuru noteikti piekārtu pie sienas. Liels paldies par jūsu darbu.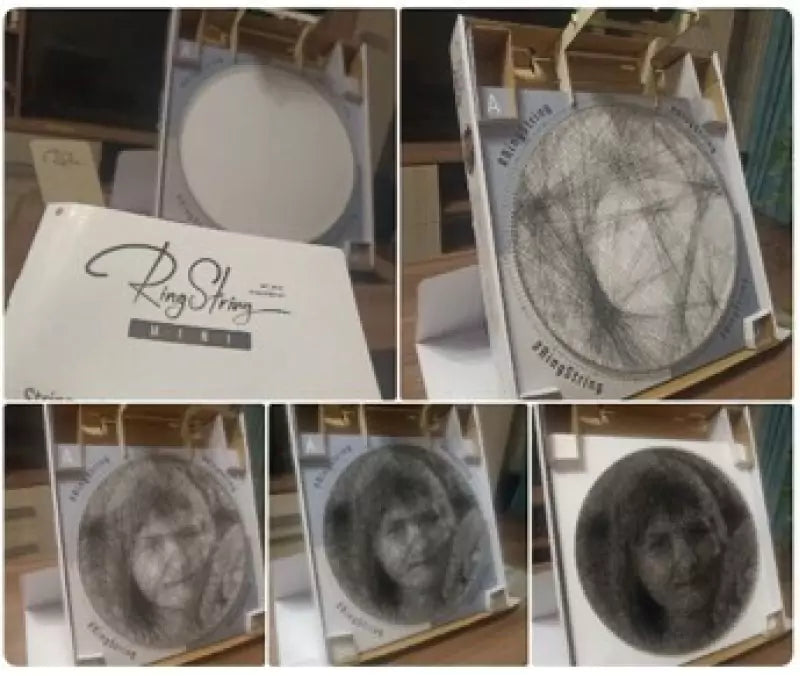 Даже не думала, что с помощью однотонной нити можно создать настоящий шедевр! Открыла для себя новый вид творчества - стринг арт. Сказать, что я в восторге - ничего не сказать! На пару вечеров я пропала?) Продуманный до мелочей набор: телефонное приложение, интерактивная инструкция, подставка под телефон и катушка с нитью. Все настолько просто и понятно, что разберется даже ребенок. Почувствовала себя творцом и художником шедевра.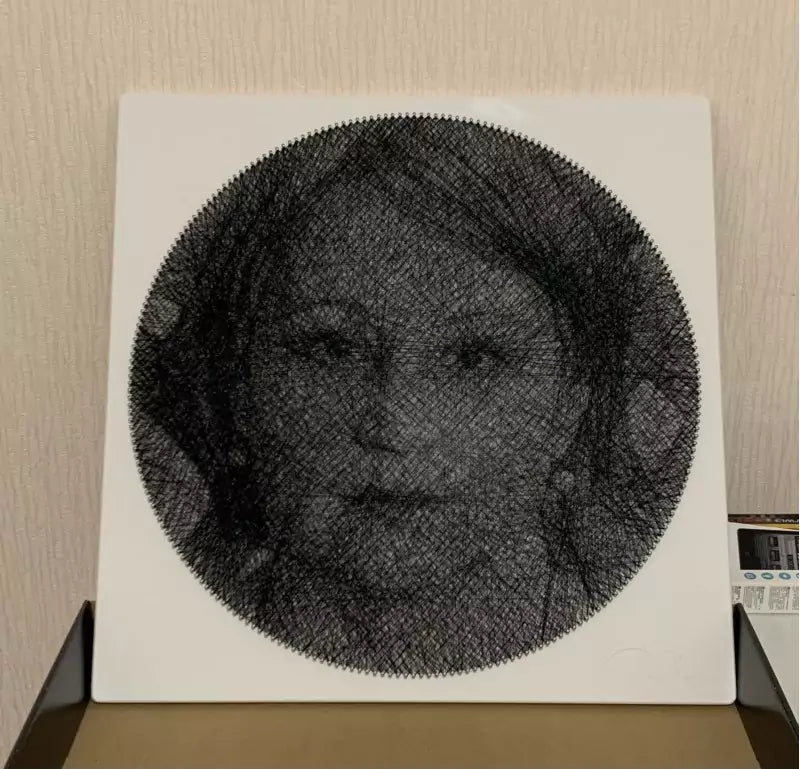 Відкрила собі цей новий вид творчості. Процес захоплює із самого початку, і справді важко перерватися, хочеться продовжувати і продовжувати. А результат – це щось дивовижне. Не думала, що простим переплетенням ниток можна досягти такої точності зображення! Обов'язково замовлю ще!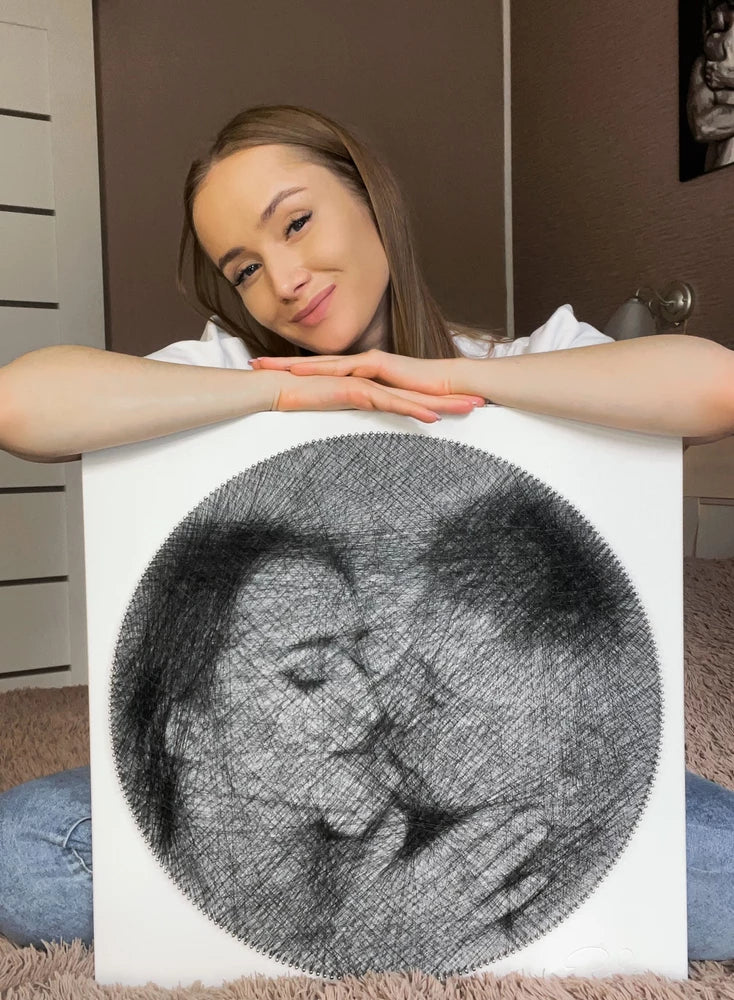 Testimonial
Imeliselt pakitud lisavarustusse. pappkarp ja pakitud teibiga firma logoga 👍 maaliga karbi sees on avamata. Kõik on paigas. Niidipool pakendivõrgus. Mul on väga hea meel, et kõik sujus üllatusteta 🤩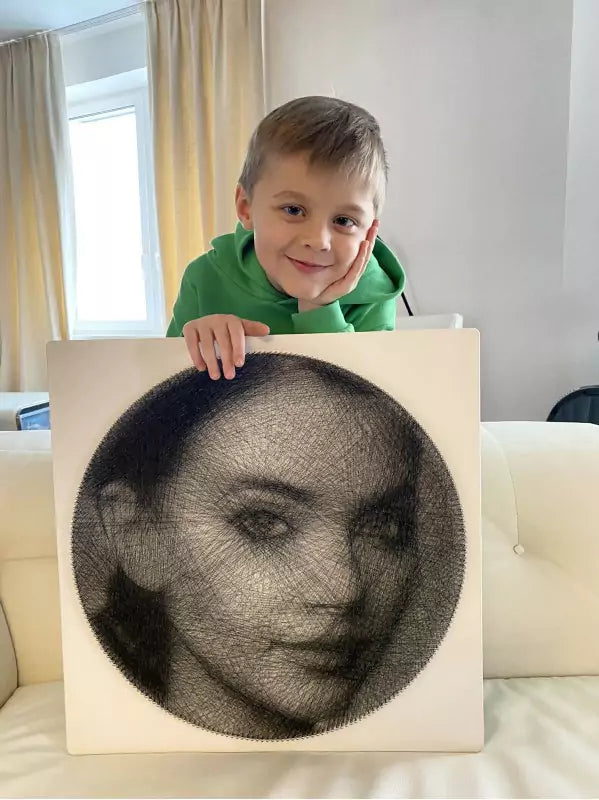 Получив набор в подарок, я не поверила что из ниток получится такая детализированная картинка. Выбирали с сыном фотографию долго, не все удачно подходили. Но итоговый результат - ЭТО ПОТРЯСАЮЩЕ! Выбираю куда повесить, и там хочу и там хочу =)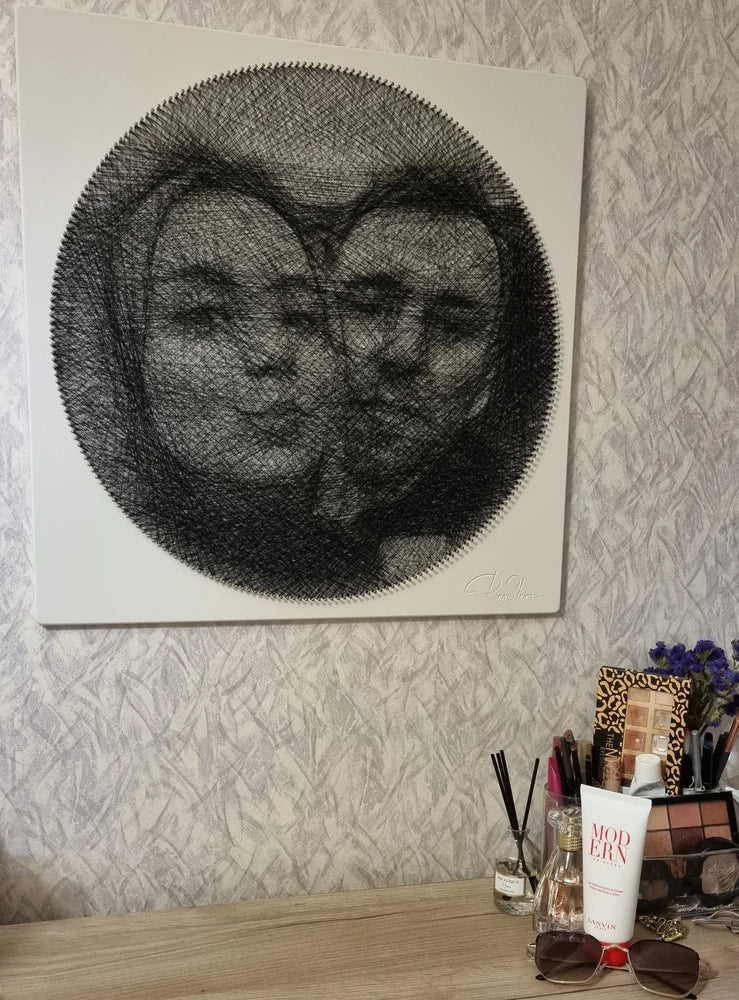 Prekė atkeliavo puikios būklės, viskas gerai supakuota, niekas nesugadintas. Puiki programa, leidžianti atsipalaiduoti ir mėgautis procesu. Esu labai patenkinta pirkiniu!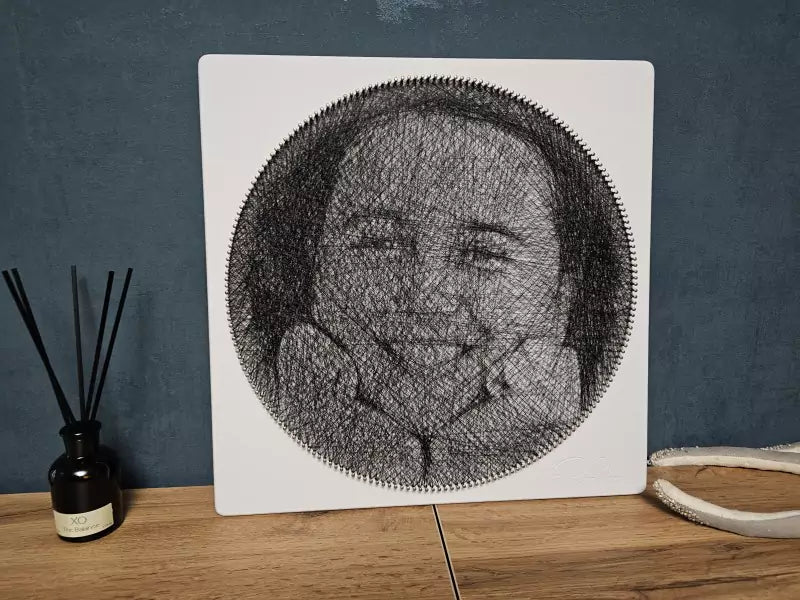 Ich bin entzückt! Das ist eine sehr ungewöhnliche Erfahrung. Coolste Idee! Ich habe den Prozess sehr genossen! Habe es verschenkt, aber noch nicht verschenkt. Ich habe ein weiteres Set für mich gekauft
Innere Vielen Dank für diese Emotionen!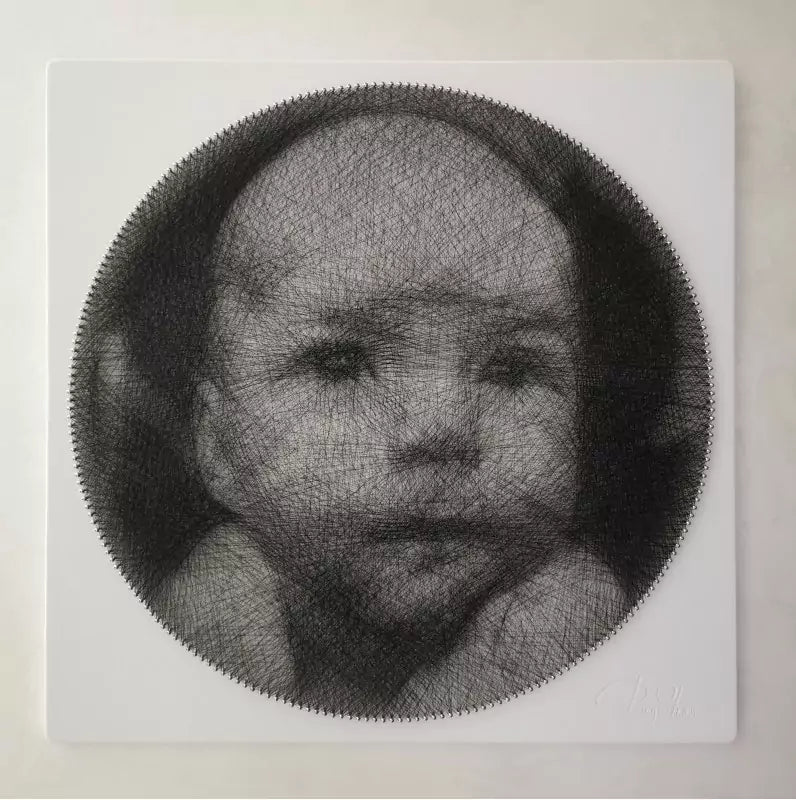 Как только увидела этот набор, поняла, надо брать! Очень медитативный, увлекательный процесс создания картины. Подбор фотографии занимает много времени для получения отменного результата, одно фото пришлось прогонять несколько раз, ибо итоговая картинка меняется. Онлайн помощник выше всяких похвал, качественный и продуманный сервис, да и материалы все на высоте. Спасибо RingString за часы отдыха в удовольствие.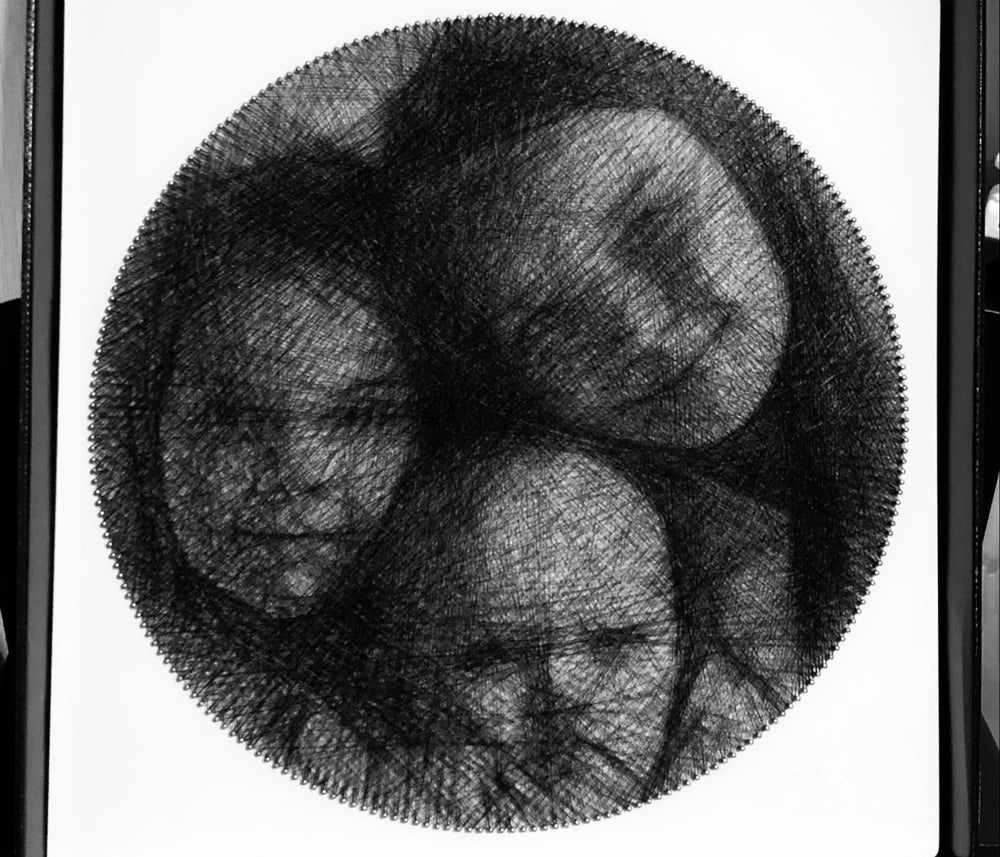 Давно хотела попробовать сделать картину нитью, и наконец-то дошли руки 😍 Процесс увлекательный, после тяжёлого дня очень помогает отвлечься от всего. Однозначно рекомендую и возьму себе ещё не раз 👍👍👍Спасибо продавцу❤️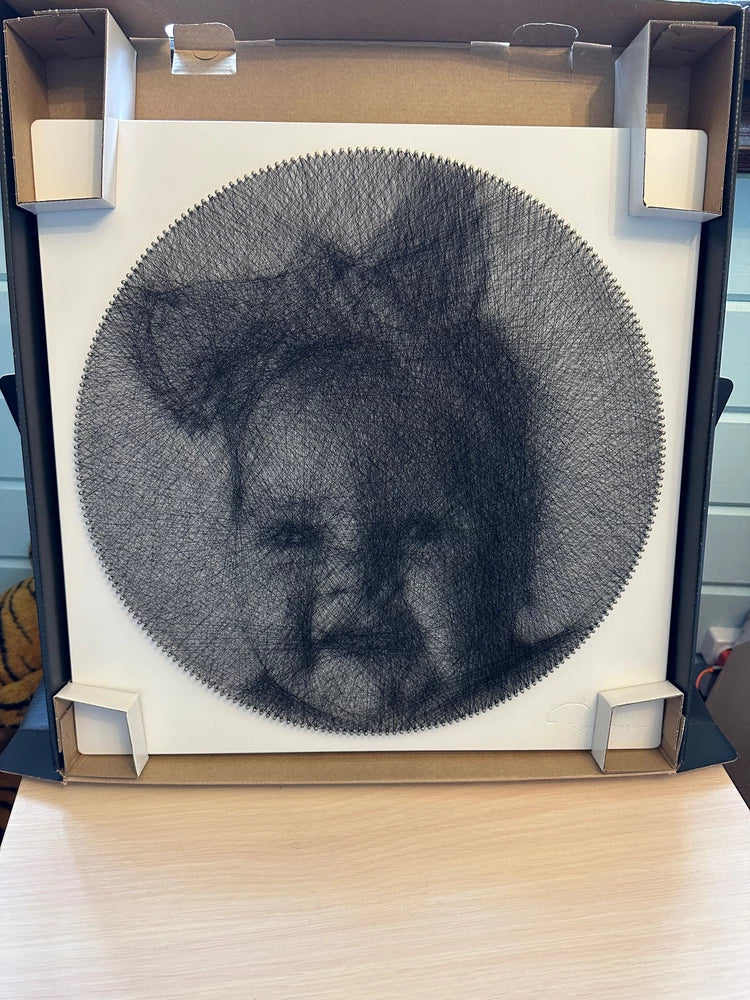 Suurepärane pilt, rõõm teha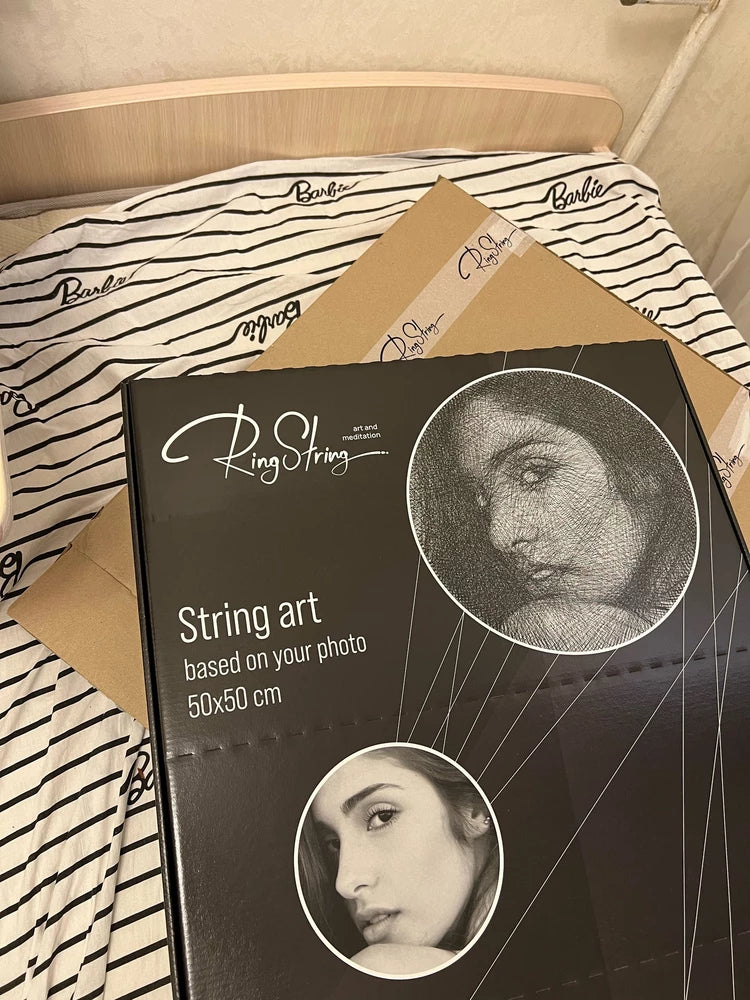 Jau seniai norėjau išbandyti šį paveikslą ir pagaliau užsisakiau 😍 dabar viskas vyksta, labai lipna ir neįprasta savo rankomis daryti 🫶🏼 Būtinai vėliau pasidalinsiu rezultatu, ačiū žiedeliu už šią idėją ir įgyvendinimo galimybę 🪄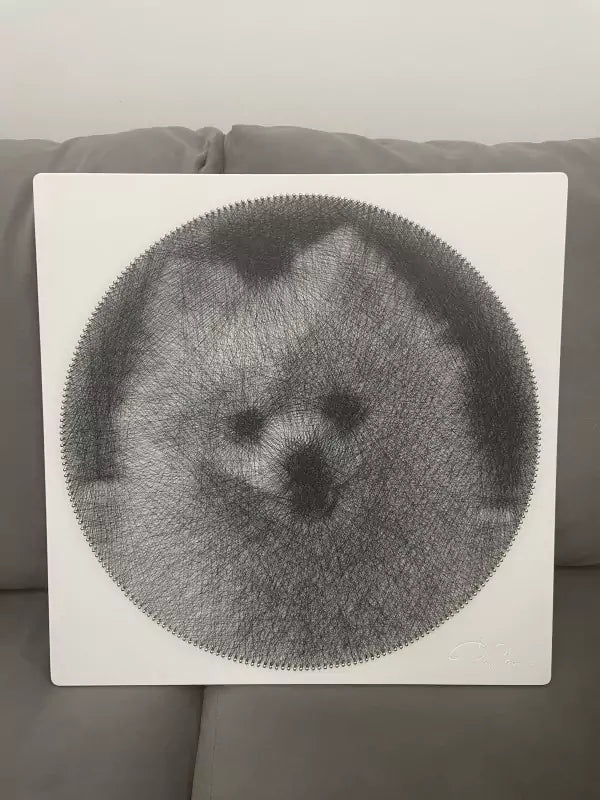 Отлично провела время за плетением картины! Большое спасибо команде Ringstring за интересный и качественный продукт, все отлично сделано и продуманно. Теперь хочется подарить такую картину всем родным и близким, обязательно буду покупать на подарки )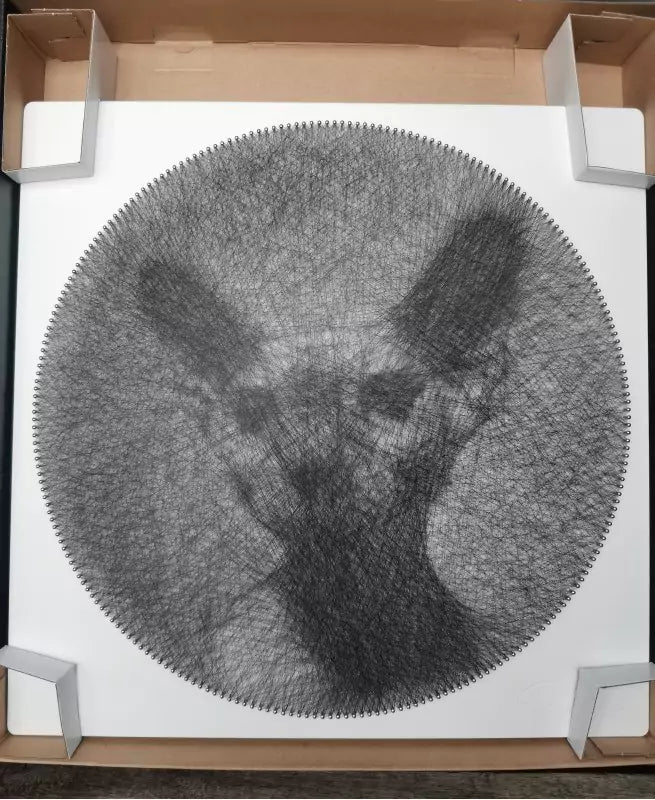 Спасибо RingString за приятно проведённый вечер :) Отличная картина получилась!
Процесс очень занимательный. И приложение удобное с приятным музыкальным сопровождением.
Жаль что финишировала так быстро))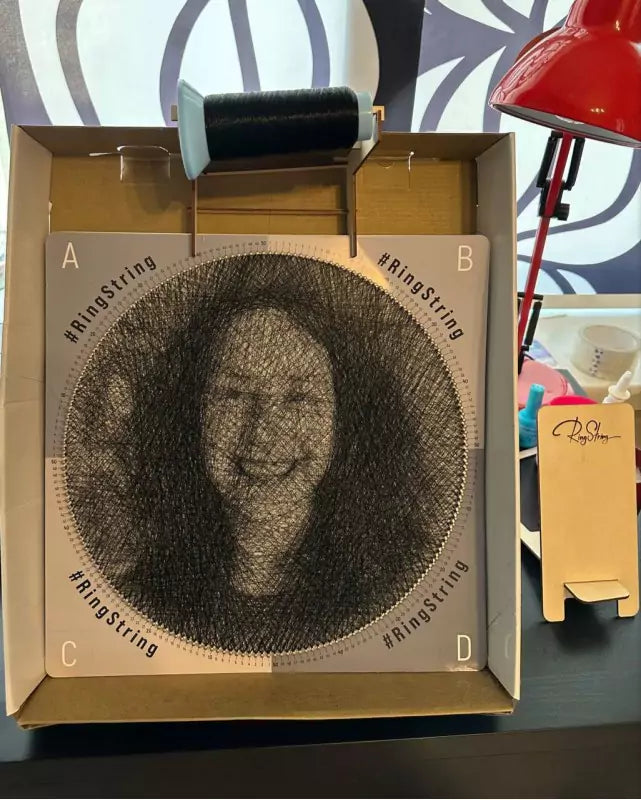 Tā ir vienkārši maģija! Sākumā šķiet, ka nekas nenotiek un tās ir tikai haotiskas līnijas, un tad pēkšņi sāk parādīties sejas aprises, kas ar katriem simts soļiem kļūst skaidrākas un skaidrākas. Ļoti atkarību.
Ceru, ka atsevišķi būs nopērkami dēļi ar naglām, lai varētu uztaisīt vairākas gleznas :)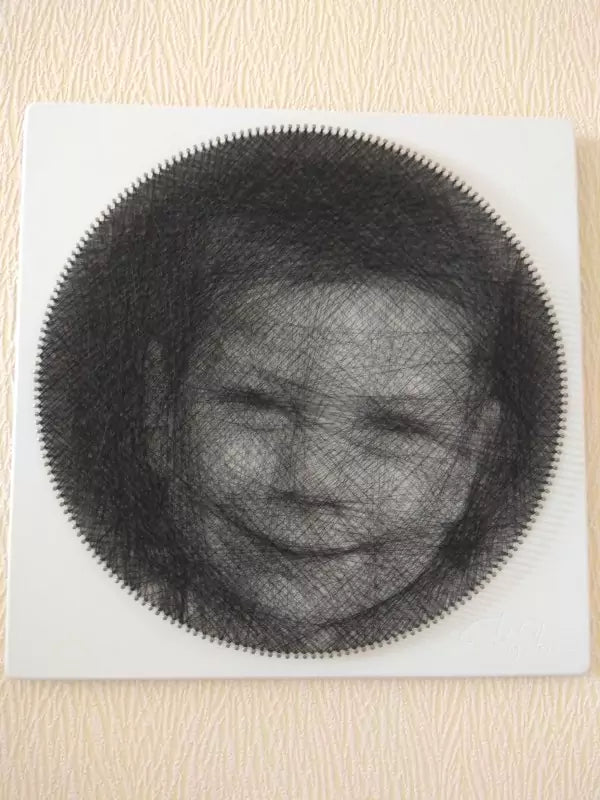 I discovered this new type of creativity. The process is captivating from the very beginning, and it's really difficult to stop; you want to continue and continue. And the result is something amazing. I didn't think that such image precision could be achieved by simply interweaving threads! I will definitely order more)!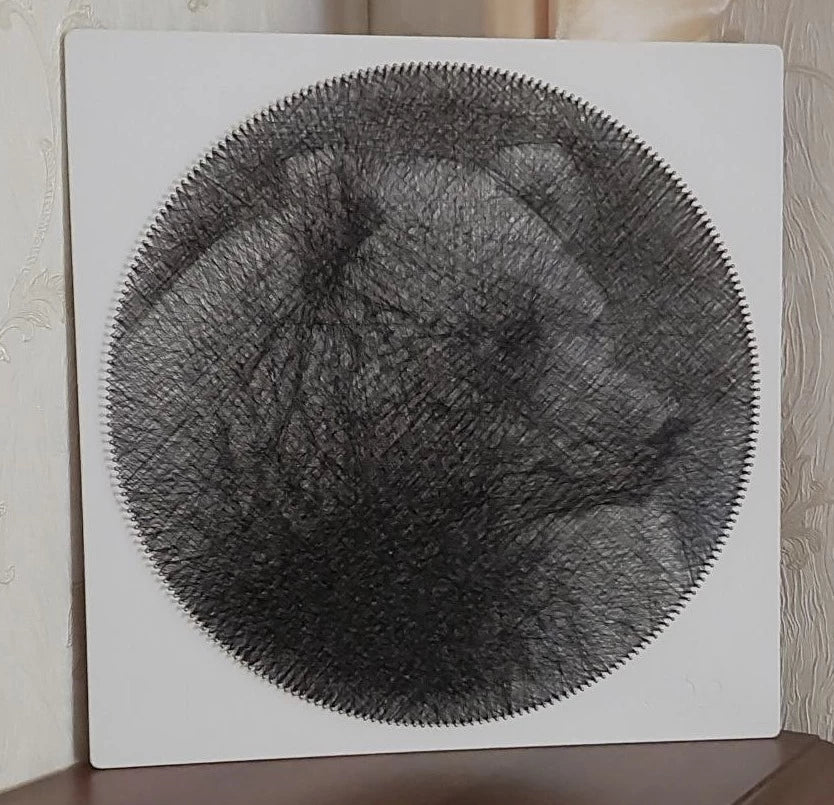 Набор привёл в восторг своей идеей! Коробка пришла в целости, ни одна деталь не пострадала в дороге - благодарность доставке. Процесс плетения захватывает. Очень интересный необычный и оригинальный подарок. Рекомендую всем, кто ищет интересный подарок.